Firefox 1.5 Release Candidate 1 is now available for download. This is the first release candidate of our next generation Firefox browser, to be released later this year, and it is being made available to our developer and testing community for compatibility testing and to solicit feedback.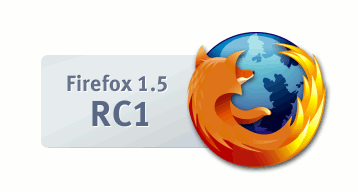 Come promesso il team di sviluppo di Firefox ha rilasciato la versione Release Candidate del browser.
E' da ricordare che si tratta pur sempre di una versione di sviluppo e non "final", di conseguenza non è da considerare completamente stabile ed è consigliato l'uso a scopo di test. Tempo di organizzarmi e magari affianco l'installazione alla 1.0.7.